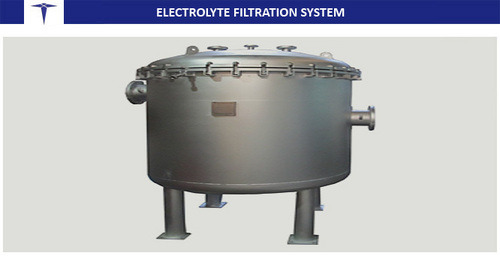 Product Description
Electrolyte Filtration System
Our expertise enables us to manufacture, export and supply a broad range of Electrolyte Filtration System. Offered system is designed with high level of precision according to the set industry norms. Manufactured using high grade copper, nickel with the help of advanced technology, it is used for contaminant removal and recycles the electrolyte. This Electrolyte Filtration System is available in various specifications as per the requirements of the clients at the most affordable price.
Features:
High strength
Perfect finish
Robust construction
Durability
Specifications:

For competent production of durable and high purity copper in electro-refining as well as electro-winning operations, it is required to control the impurity level. The contaminants are problematic due to the composition of the feedstock. Typical contaminants available in electro-refining as well as electro-winning operations are:

Nickel
Tellurium
Bismuth/Antimony
Arsenic
Selenium

Constantly or periodically bleed off de-copperized electrolyte to maintain contaminants at suitable level is the standard process. While this eradicates the impurity problem, major consignment of precious chemicals are misplaced. Highly acidic waste exhausted electrolyte must be balance with lime or caustic ensuring huge quantities of waste sludge that should be disposed.

In copper refinery, slime is killing the superiority of cathode that further affects the dispatch-ability of cathode, therefore it filters the electrolyte.

Operation:

For handling huge volume sludge, there are numerous updated technologies accessible but the management of systems as well as economics is very tough and expensive, therefore conservative design FOTI is acknowledged for such application. This labour design is intensive as the mud particles are available in 15-2 microns with any mechanization slime handling becomes monotonous and costly.

Solution:

Contaminants, provided in the electrolyte bleed, are removed by the FOTI system to recycle the electrolyte.
In some cases, these quantities are converted into a precious by-product.

The profits of these TFI Electrolyte Purification Systems are:

Augmented electrolytic process competence (lower voltage/higher current efficiency)
Higher cathode purity
Increased electrolyte purity (lower quantity level)
Reduced lime and sulfuric acid purchases
Reduced waste treatment costs
Revenue from valuable sale by products

Technical Service and Support:

24/7 telephone access to technical services support
Design, development and engineering
Extensive spare parts record for next day shipment of the most replacement parts
From consultation to after-sales service in 8 operating phases
Full service programmed maintenance, installation and testing
On-site commissioning supervision
Performance demonstration and operator training
Performance monitoring with technical support program
Personnel instruction
Production and transport
Prompt after sales assistance
Research and materials testing
Specialized technical support