Pleated Paper Air Filter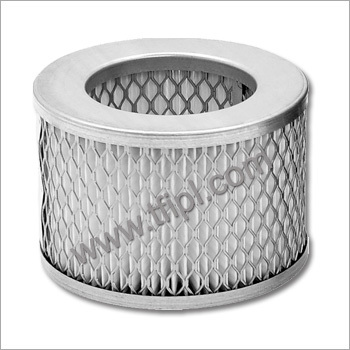 Pleated Paper Air Filter
Price And Quantity
Product Specifications
Pleated Depth Filter Cartridge

Double Open End
Product Description
Looking for efficient air filters?? If yes, then we bring you best grade of Pleated Paper Air Filter which is widely acknowledged for its robust construction suing most latest methods are used 7/8 - 1 1/4-inch deep pleats along with the narrow air spaces that accounts to be 1/8-inch between, easing it to the possible to the pack more of the filter paper in to the standard sizes of frames than can be done along with the corrugated separators, deep-pleat, or even by making use of the separator-less construction methods. Pleated Paper Air Filter offers the 98.8% of the efficiency.
Pleated Paper Air Filter Advantages:
Abutting folds can be easily separated with the help of ribbons, threads, tapes, strips of the medium, or even the continuous beads.
These pleat filters contain approximately twice as much of the filter paper as the deep-pleat.
Moreover, these are comforted with the corrugated separator filters that are of the equal frame size.
Rated to be in filled with the airflow with the resistance of 0.25 Kilopascals (kPa) at the time of being operated at 3,060 cubic meters per hour (m3/hr).
Benefits
Higher efficiency and longer service life equals lower operating costs
High efficiency cartridge provides superior solids holding capacity
Spiral wound core reduces cartridge weight resulting in lower freight costs
Pleated Paper Air,Oil,Fuel Filter Cartridges_Suction Air Filter_6
Features:
Recommended maximum operating temperature: 240F
Maximum differential pressure: 75 psi
Flow direction: Outside to in
pH range from 5 to 9
Single-piece construction
Materials:
All metal components coated to protect against corrosion
Gaskets are Buna-Nother materials available on request
Perforated paper or expanded metal outer wrap is available if required