Portable Filter Housing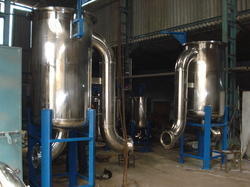 Portable Filter Housing
Price And Quantity
Product Specifications
Portable Filter Housing

New
Stainless Steel

Pleated Depth Filter Cartridge
Product Description
We are one of the leading manufactures, exports, and suppliers of a supreme quality range of Filter Housing. The offered housings are manufactured with high precision using excellent quality material like MS, CS, SS 304, SS 316L. This housing is used in pharmaceutical, sugar process plant, petrochemical, chemical, water, oil plant, etc. Further, this portable Filter Housing is available in varied technical specifications as per the need of our valued clients.
Portable Filter Housing Advantages:
Maintenance free
Durability
Heavy duty construction
Compact design
Specifications:
"TFI" provides 10" / 20" / 30" Long SS 304 / SS 316 / SS 316L filter housing having male threaded / female threaded /flanged type connection to accommodate DOE type, code VII type or one end threaded type filter elements. They have efficient sealing properties with east to use and maintain by widened tri-clover clamp fittings.
"TFI" single cartridge filter housing is developing for zero residues in the vessel to fulfill different pharmaceutical application demands.
"TFI" filter housing is available in 0.2 RA value mirror polished surface or electro - polished to match up with the different demands of pharmacopia s well as GMP.
"TFI" also offers single cartridge filter housing having perforated cage covered with high-end polymer sleeves to ensure to remove rust in aromatic as well as organic solvents application.
"TFI" single cartridge filter housing is successfully replacing the usage of conventional polymer filter housing. It has become the permanent solution against the replacement of polymer filter housing as it gets break during normal opening for cartridge replacement.
Single filter housing is also designed to withstand the operating pressure up to 40 bars. It is also used as a filter train for offering high quality results in ophthalmic liquid solution filtration processes by installing 10, 20, 5, 1 and 0.5 micron filter cartridges in a series.
Multi Cartridge Filter Housings
"TFI" designs durable range of filter tube-sheets having optimum consumption of filter housing diameter area so that 204mm diameter filter housing accommodates 3 nos. and 4 nos. filter cartridges with standard diameter of 64mm OD. Therefore, it is suggested to create provisions for extra nos. of elements / to use higher nos. of elements.
During the installation of filter, the initial cost remains in a fine choice of augmenting the machining only.
"TFI" provides high-end filter housing available with high-end welded tube-sheet or removable (suspended) tube-sheets.
"TFI" ensures to provide perforated cover at the external periphery of filter cartridges over 80 pcs. to evade the chances of harm during the management of assembly for substitution of cartridges.
"TFI" provides multi cartridge filter housing in CS, SS 304, MS, SS 316L or Duplex steel 2205 for attaining maximum nos. of cartridges up to 220 nos. in a group.
"TFI" ensures to provide multi cartridge filter housing with back-flushing and back-pulsing arrangement employing exact back-pulsing and venturi devices.
"TFI" provides multi cartridge filter housings with rothmans clamp, eyebolt, regular nut bolt fittings etc. Tri-clover clamp is designed for top cover closing.
"TFI" offers davit arm of wheel or clamp type for trouble-free handling during maintenance.